Odysee: https://odysee.com/@wikiworldorder:c/techno-party-posturing-observed-in-natural-habitat:1
YouTube: https://www.youtube.com/watch?v=yII94xsU7M8
This is an unedited clip from C-SPAN's 8/2/2022 coverage of a New York 12th Congressional District Democratic Debate, from timestamps 6:18 to 17:04, re-posted by Wiki World Order (on new web domain):
worldorder.wiki/2022/08/03/technocratic-party-posturing-observed-in-natural-habitat/
The first round of questions focus on moneypox, and the second round focused on COVID-related policies including masks, vaccines, and 'anti-vax' accusations. It is too bad these candidates do not seem to understand some of the key philosophies and science behind the past two years.
Check out Wiki World Order on the new domain: WorldOrder.Wiki
---
Watch entire video C-SPAN Campaign 2022 coverage:
c-span.org/video/?522050-1/york-12th-congressional-district-democratic-debate
New York 12th Congressional District Democratic Debate
"New York Democratic Reps. Jerry Nadler and Carolyn Maloney were joined by activist and lawyer Suraj Patel in a debate among candidates seeking the Democratic nomination in New York's 2022 12th Congressional District race. Reps. Nadler and Maloney — both incumbents — were competing in a newly drawn 12th Congressional District after a court-appointed cartographer amended a Democratic-backed redistricting plan following the 2020 Census. Rep. Nadler has represented the state's 10th Congressional District for the previous decade, which encompassed Manhattan's Wast Side and included parts of Brooklyn. The Manhattan portions of that district were combined with those of Rep. Maloney's 12th District in the redistricting process. Among the topics debated were the outbreak of monkeypox, abortion and New York City's economic recovery from the beginning of the COVID-19 pandemic."

C-SPAN Transcript of this clip:
00:06:18, Moderator #2, Brigid Bergin
ANOTHER HEALTH RISK IS OF GROWING CONCERN. THERE HAS BEEN AN EMERGENCY DECLARED BECAUSE OF THE SPREAD OF MONKEYPOX. THERE BEEN NEARLY 2 — 50 TO 100 CASES ACROSS THE COUNTRY WITH NEW YORK LIVING WITH 1300. HERE WE GO AGAIN. CRITICS SAY WE SHOULD HAVE LEARNED MORE FROM THE YEARS WE SPENT DEALING WITH COVID. MY FIRST QUESTION IS TO YOU. DO YOU AGREE WITH CRITICS WHO SAY PRESIDENT BIDEN DROPPED THE BALL ON MONKEYPOX RESPONSE AND WHAT CHANGES DO YOU PROPOSE AT THE FEDERAL LEVEL TO PREPARE FOR THE NEXT PUBLIC HEALTH EMERGENCY?
00:07:01, Carolyn Maloney
WE CAN ALWAYS DO BETTER. ALL OF US CAN DO BETTER. I HAVE CALLED AND FOR HIM TO DECLARE A NATIONAL EMERGENCY, THAT WOULD RELEASE MORE RESOURCES, MONEY AND HELP IN THIS DIRECTION. I HAVE WRITTEN SEVERAL LETTERS ON THIS TO THE MAYOR, THE CITY AND OTHERS. WE COULD OPEN UP THE NATIONAL RESERVE AND ORDER THEM TO PRODUCE MORE OF IT. WE KNOW 80,000 NEW DOSES CAME AND SOME OF THEM ARE COMING TO NEW YORK. WE ARE LOOKING AT IT, WE ARE ON TOP OF IT AND WE WILL KEEP WORKING TO GET MORE VACCINES HERE IN THE STUDY SO THAT EVERYONE WHO WANTS A VACCINE CAN GET IT. WE SHOULD PROBABLY SET UP A COMMISSION TO COME OUT WITH A WHOLE STUDY AND PLAN OF HOW TO BE READY FOR THE NEXT ATTACK OF THE NEXT PANDEMIC. WE KNOW WE WILL HAVE FUTURE PANDEMICS. I HAVE BEEN TRYING TO DO THAT, TO TRY TO HAVE INSURANCE IN PLACE FOR SMALL BUSINESSES GOING FORWARD. WE NEED A COMPREHENSIVE APPROACH. THAT IS ONE AREA I HAVE LEGISLATION THAT I HOPE TO PASS.
00:08:12, Moderator #2, Brigid Bergin
THANK YOU. IN WHAT WAYS WOULD YOU PROPOSE LIKING THE CDC TO FOCUS MORE EXPLICITLY ON CONTAINING OUTBREAKS LIKE THIS?
00:08:23, Jerry Nadler
I THINK THE CDC CAN DO THE FOCUSING. I DON'T THINK THAT IS THE PROBLEM. THE PROBLEM IS WE DON'T HAVE ENOUGH VACCINES. WE SHOULD HAVE FORESEEN THIS. THAT IS WHY I LEAD A DENIGRATION LETTER TO THE PRESIDENT URGING HIM TO IMMEDIATELY DEDICATE 100 MILLION MORE DOLLARS TO MONKEYPOX VACCINES.
00:08:49, Moderator #2, Brigid Bergin
DO YOU THINK THE RISK POSED BY MONKEYPOX IN THIS OUTBREAK WILL FIX THE PRICES THAT WE SAW?
00:09:01, Jerry Nadler
THIS TRANSMISSION SEEMS TO BE BY SURFACE CONTACT INSTEAD OF BY EVERSOLE. IT IS MOST LIKELY — AEROSOL. IT IS MOST LIKELY NOT TO SPREAD AS FAR.
00:09:17, Moderator #2, Brigid Bergin
PEOPLE HAVE HAD DIFFICULT CHALLENGES GETTING THOSE VACCINE APPOINTMENTS. HOW WOULD YOU WORK TO ENSURE THAT PEOPLE WHO NEEDED VACCINE CAN GET IT?
00:09:26, Suraj Patel
I WANT TO ANSWER YOUR QUESTION. THE FDA IN THE LAST THREE YEARS HAS PROVEN TO HAVE FAILED. IT IS IN OVER 100 YOUR ORGANIZATION THAT NEEDS TO BE REFORMED. THE EUROPEANS HAVE SEPARATE FOOD AND DRUG ADMINISTRATION IS TO SAFEGUARD FOOD. THERE WERE ONE MILLION DOSES OF THE MONKEYPOX VACCINE WAITING IN A DANISH LABORATORY. THEY HAVE INSPECTED THOSE VACCINES AND THAT FACTORY AND APPROVED IT BUT THE FDA DRAGGED THEIR FEET ON THAT INSPECTION AND ONLY RECENTLY GIVE THEM APPROVAL. WE HAVE LEARNED THE SCIENCE PROVES THAT THE SHOT WILL GIVE YOU ABOUT 70% PROTECTION. LET'S NOT MAKE THE SAME MISTAKE. BOTH OF THESE AGENCIES NEED TO REFORM. WE NEED REFORMERS AND AUTHORS THAT ARE WILLING TO ASK THE TOUGH QUESTIONS. THE FDA DOES NOT NEED TO BE — THEY ARE FULLY CAPABLE OF CESSATION OF SMOKING OVERSIGHT THE WAY IT IS. THE CDC DOES NOT NEED TO BE DOING THAT.
00:10:51, Moderator #2, Brigid Bergin
MOVING ONTO COVID, FOR MORE THAN TWO YEARS, THE WORLD HAS FACED THE COVID-19 PANDEMIC. MORE THAN 40,000 LIVES LOST HERE IN NEW YORK CITY AND WHILE THE VIRUS REMAINS EVER PRESENT IN OUR LIVES, VACCINES HAVE PLAYED A VITAL ROLE IN MITIGATING THE REST OUTCOMES. DURING YOUR TIME IN OFFICE, YOU RAISED QUESTIONS ABOUT VACCINES AND AUTISM. GIVEN THE ONGOING CHALLENGE, DID YOU SPREAD MISINFORMATION ABOUT VACCINES?
00:11:34, Carolyn Maloney
ABSOLUTELY NOT. YOU ARE REFERRING TO SOMETHING I SAID IN A HEARING ROUGHLY 20 YEARS AGO. I SUPPORT THE SCIENCE BEHIND VACCINES. I HAVE WORKED TO BRING OVER $5 MILLION WORTH OF VACCINES TO OUR CITY, FREE TESTING, FREE TREATMENT. I AM THE ONLY MEMBER OF CONGRESS WHO HAS OPENED UP TO VACCINE HEALTH CARE CENTERS. THIS ACTION HAS SAVED LIVES. AGAIN, WORDS, NOT ACTIONS. I SUPPORTED VACCINES. ONE OF THE FIRST THINGS I DID WAS VOTE FOR THE CHILDREN'S VACCINE PROGRAM THAT CAME FORWARD AND WE BROUGHT IT TO MY NEIGHBORS THAT I REPRESENT. THAT IS NOT MY ACTION. I BELIEVE I AM THE ONLY CONGRESSPERSON IN NEW YORK STATE FOR SURE. THEY HAVE TAKEN THE EXTRAORDINARY STEP OF OPENING UP TO VACCINE HEALTH CARE CENTERS IN THE DISTRICT I AM PROUD TO REPRESENT. I LOST THEM IN REDISTRICTING.
00:12:52, Moderator #2, Brigid Bergin
JUST TO BE CLEAR, YOU REINTRODUCED LEGISLATION BETWEEN 2015 AND 2016.
00:13:03, Carolyn Maloney
I NEVER VOTED AGAINST VACCINES. THERE WAS A BILL I WENT ON THAT STUDIED VACCINES. IF WE ARE A COUNTRY THAT CAN'T EVEN STUDY ANYTHING ANYMORE, I REGRET I EVER ASKED A QUESTION ABOUT VACCINES OR SUPPORTED A STUDY ON WHETHER OR NOT THEY ARE EFFECTIVE OR NOT.
00:13:22, Moderator #2, Brigid Bergin
IN WASHINGTON DC, ALL PUBLIC SCHOOL CHILDREN UNDER THE AGE OF 12 ARE REQUIRED TO BE VACCINATED AGAINST COVID TO GO BACK TO SCHOOL. SHOULD THAT BE THE CASE IN NEW YORK CITY?
00:13:34, Jerry Nadler
IT SHOULD. COVID-19 IS A VERY COMMUNICABLE DISEASE THAT IS SPREAD BY AEROSOLS. THAT MEANS IT IS VERY EASY TO SPREAD. MUCH EASIER THAN MONKEYPOX. WITHOUT VACCINES, YOU HAVE A LOT OF PEOPLE DYING, A LOT OF CHILDREN DYING. THE PURPOSE OF THE VACCINE IS VACCINES DON'T PREVENT COVID BUT THEY DO GUARANTEE THAT IF YOU GET A FEW — IF YOU GET A CASE OF COVID, IT WILL BE MILD, IT WILL NOT RESULT IN AN INABILITY TO BREATHE. WE MUST HAVE A MANDATE FOR VACCINES.
00:14:15, Moderator #2, Brigid Bergin
WE STILL HAVE A MASK MANDATE ON SUBWAYS AND BUSES. WHEN DO YOU THINK THAT SHOULD BE LIFTED?
00:14:22, Suraj Patel
I WOULD LIKE TO ADDRESS THE VACCINE THING BECAUSE I THINK THERE IS A FACTUAL ISSUE AT PLAY. CONGRESSMAN MALONEY INTRODUCED A VACCINE BILL WITH RON PAUL OF ALL PEOPLE. SHE INTRODUCED NINE DIFFERENT BILLS. EVEN IF WE RENT THE SIMPLE IDEA THAT ALL WE WERE DOING IS STUDYING, THE FACT OF THE MATTER IS THESE WERE PROVEN DECADES AGO. REPUBLICANS TODAY TELL US CLIMATE CHANGE IS NOT REAL. THEY TELL US IT MIGHT BE SOLAR FLARES OR THE NATURAL RHYTHM OF THE EARTH. WE HAVE A CAUSAL LINK BETWEEN CLIMATE CHANGE AND CARBON DIOXIDE. THIS — THE BURDEN SHOULD SHIFT TO THE OTHER PARTY. THIS IS THE CLASSIC PROVE A NEGATIVE PROBLEM. IN DOING SO, YOU CAN DRAW A STRAIGHT LINE FROM MEN HEARING THOSE BILLS AND PEOPLE NOT GETTING VACCINES. YOU SHOULD UNDERSTAND THAT IT SHIFTED.
00:15:37, Carolyn Maloney
MY OPPONENT IS DREDGING UP CHARGES IN THE LAST TWO ELECTIONS HE THREW AT ME REPEATEDLY, HE SPENT MILLIONS ON TV ADS AND I WOULD SAY THAT IT IS NOT TRUE. I DID GO ON A BILL THAT WAS FOR A STUDY AND THAT WAS 20 YEARS AGO. LOOK AT MY RECORD, BUT HAVE YOU DONE? ACHIEVEMENTS SPEAK LOUDER THAN WORDS. IT IS EASY TO ATTACK PEOPLE. IT IS MUCH HARDER TO OPEN UP HEALTH CARE CENTERS THAT ACTUALLY HELP PEOPLE. IT IS MUCH HARDER TO PASS LEGISLATION BRINGING MILLIONS OF DOLLARS BACK TO HELP OUR CITY DELIVER THIS TO EVERY NEIGHBORHOOD BUT SOME NEIGHBORHOODS WERE NOT SERVED AND THAT IS WHY I AM PROUD OF HAVING OPENED UP NOT ONE BUT TWO MEDICAL HEALTH CARE CENTERS, SAVING LIVES BY BRINGING BACK VACCINE TREATMENT AND TESTING TO UNDERSERVED COMMUNITIES THAT HAD A HUGE NUMBER OF PEOPLE DYING FROM COVID. I AM PROUD OF THAT ACHIEVEMENT. ACTIONS SPEAK LOUDER THAN WORDS. I HAVE NEVER VOTED AGAINST VACCINES. I HAVE ALWAYS VOTED FOR THEM. I SUPPORTED FUNDING, SUPPORTED PROGRAMS AND ACTUALLY DID THINGS TO HELP PEOPLE IN OUR GREAT CITY AND COUNTRY.
00:16:49, Moderator #2, Brigid Bergin
REPRESENTED OF NADLER, YOU ALSO HAVE THE OPPORTUNITY TO RESPOND SINCE YOU WERE MENTIONED.
00:16:57, Jerry Nadler
I WILL JUST SAY THAT I HAVE ALWAYS SUPPORTED VACCINES AND I DON'T THINK MISINFORMATION IS USEFUL.
00:17:05, Moderator #1, Errol Louis
LET'S MOVE ON.
…
---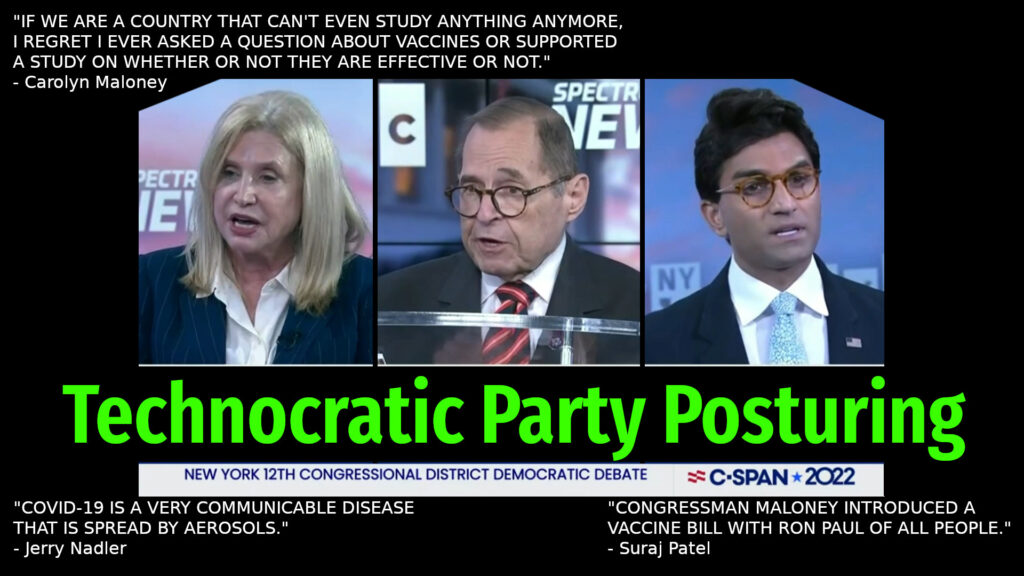 ---
Double-Edges of Exponential Scientism
https://worldorder.wiki/2020/03/29/double-edges-of-exponential-scientism
MIT Study: "For these anti-mask users, their approach to the pandemic is grounded in a more scientific rigor, not less."
https://worldorder.wiki/2021/05/20/mit-study-anti-maskers-more-scientific-rigor-not-less