How Anti-War Are You These Days?
When emperors wear no clothes, and [unwittingly] quote cartoon shows, a bit of silliness is required to communicate novel absurdities. And no matter how much tough information we consume, we've all gotta laugh sometimes.
While containing plenty of comedy, depending on your views of the world, this mashup is also very dark. This is a reflection of the past twelve months, when most people are living under existential threats, fears, stressors, and doom peddled by the governmental and media institutions.
odysee.com/doom-your-psyche-mashup-cdc-biden-trump-invader-zim:7e00b292ccfbc2fd49716cf0f097b665e4e2831b
youtu.be/4Y-YD9URRd8
bitchute.com/video/KRmrdelhviZP/
minds.com/newsfeed/1229531540491214848
Download MP3:
worldorder.wiki/wp-content/uploads/2021/04/doom-your-psyche.mp3
---
These artistic expressions do not express the views of anyone sampled…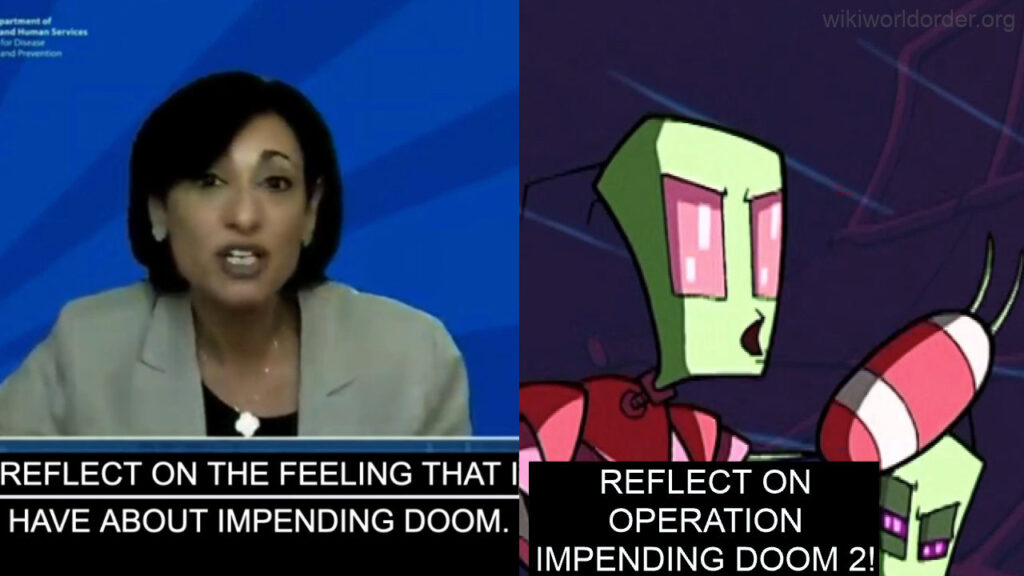 This mix expresses interpretations. You should listen to the full speeches in context:
---
President Biden and Vice President Harris Visit Centers for Disease Control
c-span.org/video/?510081-1/president-biden-vice-president-harris-visit-cdc-atlanta-georgia
March 19, 2021: "President Biden and Vice President Harris visited the Centers for Disease Control and Prevention in Atlanta. The president thanked those at the CDC for their work, telling them they are "saving lives." He also spoke about meeting the goal of administering 100 million vaccine shots during the first 100 days of his administration. Joining the president and vice president was CDC Director Dr. Rochelle Walensky, who thanked President Biden for his commitment to science."
Joseph Biden:
"… So what – what you're doing really, really, really matters, not only – and I'll end with this – not only in saving lives, but changing the mindset of the country. Changing the mindset of the country. And it's affected everything, not just affected people's health. It's affected their attitude – the attitude about what we can do as a country.

Everybody thought that I was – I didn't quite understand when I announced that we were going to – we had over 100 million shots in less than – you remember when I said we're going to – my goal was to have 100 million shots in people's arms in the first 100 days as President? And everybody said, "Oh, that sounds – yeah, right." Now it's, "He should have been more – have been, you know…" (Laughter.) "Why didn't they say more?" You know what I mean?

The point is that it is changing the way we look at a whole range of things. And when I announced it, everybody but the Vice President wondered why I also pointed out that we landed a rover on Mars at the same time: Because this is the United States of America, for God's sake. There is nothing, nothing, nothing we cannot do when we do it together. And that's what you're showing everybody.

So I came to say thank you. I really mean it. I have a whole lot of nice notes on here about the science, but – (laughter) – but I came here to say thank you, because you're not only – you're changing the psyche of the country. You're saving lives. You're saving lives. But you're changing the psyche of the country.

And this is, as I said – it's not being – I don't – I don't think we're being chauvinistic about our country, but this is – think about it: We're the only country in the world that has, every time we've gone into a crisis, have come out stronger immediately after the crisis than when we went in before the crisis. Think about it. It's about who we are. …"
---
March 29, 2021 White House COVID-19 Response Team Briefing
c-span.org/video/?510367-1/cdc-director-rochelle-walensky-says-right-now-scared
"Centers for Disease Control Director (CDC) Rochelle Walensky warned about her sense of "impending doom" saying, "Right now I'm scared," during a White House coronavirus briefing. She explained a rise in COVID-19 cases and hospitalizations in the U.S. prompted her statement as she stated the current trajectory in the country mirrors that of cases in Europe from a few weeks ago. Director Walensky encouraged the public to get vaccinated and to "hold on a little while longer." Also participating in the virtual briefing were White House COVID-19 Response Team Senior Adviser Andy Slavitt and National Institute of Allergy and Infectious Diseases Director Dr. Anthony Fauci, who answered questions on a recently released World Health Organization (WHO) report on the origins of the coronavirus and COVID-19 passports."
Rochelle Walensky:
"… When I first started at CDC about two months ago, I made a promise to you: I would tell you the truth, even if it was not the news we wanted to hear. Now is one of those times when I have to share the truth and I have to hope and trust you all listen.

I'm going to pause here. I'm going to lose the script. And I'm going to reflect on the recurring feeling I have of impending doom. We have so much to look forward to, so much promise and potential of where we are, and so much reason for hope, but right now I'm scared. I know what it's like as a physician to stand in that patient room – gowned, gloved, masked, shielded – and to be the last person to touch someone else's loved one because their loved one couldn't be there.

I know what it's like when you're the physician, when you're the healthcare provider and you're worried that you don't have the resources to take care of the patients in front of you. I know that feeling of nausea when you read the crisis standards of care and you wonder whether there are going to be enough ventilators to go around and who's going to make that choice. And I know what it's like to pull up to your hospital every day and see the extra morgue sitting outside.

I didn't know at the time when it was – when it would stop; we didn't have the science to tell us. We were just scared. We have come such a long way. Three historic scientific breakthrough vaccines, and we are rolling them out so very fast.

So I'm speaking today not necessarily as your CDC director – not only as your CDC director but as a wife, as a mother, as a daughter to ask you to just please hold on a little while longer. I so badly want to be done. I know you all so badly want to be done. We are just almost there but not quite yet. And so I'm asking you to just hold on a little longer, to get vaccinated when you can so that all of those people that we all love will still be here when this pandemic ends.

The trajectory of the pandemic in the United States looks similar to many other countries in Europe, including Germany, Italy, and France looked like just a few weeks ago. And since that time, those countries have experienced a consistent and worrying spike in cases. We are not powerless; we can change this trajectory of the pandemic. But it will take all of us, recommitting to following the public health prevention strategies consistently, while we work to get the American public vaccinated.

I'm calling on our elected officials, our faith-based communities, our civic leaders, and our other influencers in communities across the nation, and I'm calling on every single one of you to sound the alarm to carry these messages into your community and your spheres of influence. We do not have the luxury of inaction. For the health of our country, we must work together now to prevent a fourth surge.

And after that honest plea, I want to reflect on so many reasons we have to be hopeful and why your actions today can get us out of this soon. As I shared last week, we continue to get more and more real-world evidence on the protection of COVID-19 vaccines provide. And CDC scientists have been working since these vaccines were first authorized to expand the evidence supporting their effectiveness. …"
---
War is a racket. Help save the doomed! Reject, oppose, and end:
Wars on Sovereign Peoples
Wars on Drugs
Wars on Terror
Wars on Viruses
Psychological Warfare
Unacknowledged Wars
---
Coronavirus: Trump calls himself 'wartime president' in battle with 'invisible enemy'
youtube.com/watch?v=mVAhBfRDXec
March 22, 2020
"I want to assure the American people that we're doing everything we can each day to confront and ultimately defeat this horrible invisible enemy. We're at war. In a true sense, we're at war. And we're fighting an invisible enemy, think of that."
---
President Biden delivers remarks on 1-year anniversary of COVID-19 pandemic
youtube.com/watch?v=Wp43rahc2dw
March 11, 2021
"My fellow Americans, you're owed nothing less than the truth.

And for all of you asking when things will get back to normal, here is the truth: The only way to get our lives back, to get our economy back on track is to beat the virus.

You've been hearing me say that for — while I was running and the last 50 days I've been President. But this is one of the most complex operations we've under- — ever undertaken as a nation in a long time.

That's why I'm using every power I have as President of the United States to put us on a war footing to get the job done. It sounds like hyperbole, but I mean it: a war footing.

And thank God we're making some real progress now.

On my first full day in office, I outlined for you a comprehensive strategy to beat this pandemic. And we have spent every day since attempting to carry it out."

cpr.org/2021/03/11/video-president-joe-biden-one-year-covid19-anniversary-primetime-address/
---
Event 201
Pandemic tabletop exercise hosted by The Johns Hopkins Center for Health Security in partnership with the World Economic Forum and the Bill and Melinda Gates Foundation on October 18, 2019:
Segment 4, Communications Discussion and Epilogue Video
youtube.com/watch?v=LBuP40H4Tko&list=PL9-oVXQX88esnrdhaiuRdXGG7XOVYB9Xm&index=5
---
"Extremely dangerous to our democracy"
---
"War Is A Racket" by Smedley Butler
Listen to full audiobook now:
---
The Fog of War: Eleven Lessons from the Life of Robert S. McNamara (2003)
archive.org/details/TheFogOfWarElevenLessonsFromTheLifeOfRobertS.Mcnamara

---
More Mashups by Wiki World Order…
2010:
odysee.com/@wikiworldmusic:7/and-youve-got-to-let-freedom-ring:f
2014:
odysee.com/@wikiworldmusic:7/presidents-unspeak-remixed-obama-bush-clinton-reagan-jfk-eisenhower-united-nations:4
2015:
odysee.com/@wikiworldanimations:c/molding-minds-reading-rainbow-remix-2015:f
2020:
odysee.com/@wikiworldanimations:c/hammer-time-the-covid-reset:6
---
More on COVID…
Bucky Stats now has radar displays for fellow co-pilots of spaceship Earth, Mar 29
Klaus Schwab Says SARS-CoV-2 "Does Not Constitute an Existential Threat," But Thank Goodness for The Great Reset, Dec 23
Full Disclosure: I am biased because I…, Dec 22
CDC Expected vs Excess Deaths — "Dry Tinder" Hypothesis Estimates for Maryland, Pennsylvania, and the U.S. as a Whole, Dec 10
WHO Killed The 20-21 Seasonal Flu?, Dec 9
Oct 21, Maryland-Centric COVID-Related Mortality Rankings, Dec 5
Governor Hogan Information Request: Followup Voicemail #1, Dec 4
A Few Weird Memes For 2020, Dec 3
Historical Mortality Data Update (COVID-USA), Oct 15
Science Denial? Rights Denial?, May 28
Drug Use and Pandemics as Public Health Issues, May 28
Governor Hogan's Science-Based Health Policies: An Information Request Experiment, May 20
Revisiting Imperial Risk Assessments of COVID-19, May 13
Risk Assessment Update May 10 on U.S. COVID-19 Deaths, May 10
Franklin D. Roosevelt on Familiar Fascism, Apr 25
Clade X Quotes: The Governors' Pandemic, Apr 23
Double-Edges of Exponential Scientism, Mar 29
Statistics & Customizable Trend Graphs: