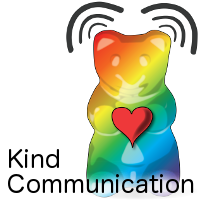 Re-posted From: http://KindCommunication.org/2015/02/08/respecting-the-opinions-of-others/
"That's stupid."
We've all had this phrase thrown in our face after we've shared an idea or opinion.  It hurt.  And the pain planted a seed right in that moment, that later would blossom in self-righteousness when we were proven "right", or shame when we found it indeed our idea was off the mark.
Disagreement is natural.  It is inevitable.  And so how can we disagree while still respecting our difference?  It's a cliche now, and sounds so simple and easy.  But let's explore this cliche.
Sure, it is pretty easy to respect the differences of others when those differences don't truly affect us.  My partner prefers pie and I prefer cake, which is a difference of opinion pretty easy to honor, until we have to choose one desert to share.  The values of other cultures are easily celebrated until we perceive that culture or those values as a threat to "our way of life".  And we can respect our coworkers different work style, until we have to work with them on a project.
I want to talk about how do we respect someone else's opinion especially in those moments when we think that opinion is "stupid".
First, remember that other people are often those best equipped to see our blind spots.  They wouldn't be called "blind spots" if we ourselves could see them clearly.  The different ways that others process information, approach the world, and address issues can open us up.  They can actually teach us.  Notice what it's like to be in a conversation with someone when you view them as a "teacher".  You pay close attention to what they are saying.  You ask clarifying questions to make sure you understood correctly.  When you disagree with the "teacher's" idea you often don't blurt out "that's not right!", instead you ask a question "okay, well what about x?  How would that fit into this?"  Next time you're expecting to have a disagreement with someone, enter the conversation imaging this other person is your "teacher".
Next, share something you appreciate about the other person's idea along with what you disagree.  Even if all you appreciate is the positive motivation behind the plan (whether it is to help, have safety, for justice, etc), tell the other what you appreciate about their viewpoint.  That doesn't mean focus on what you have in common, and ignore differences.  Talk about both, share both.  Just try to avoid "but", and replace it with "and".  Nine out of ten people, as soon as they hear the word "but" they interpret you as negating everything that came before.
Finally, instead of projecting the "problem" onto this other person and their idea, reflect upon what your honest reaction is.  We've mostly all become very accustomed to keeping up our armor, staying invulnerable, by blaming the other person.  If you're more honest about your own experience, you'll see the labeling of the other person or their idea is totally unnecessary.  Are you afraid that the idea won't work?  Are you afraid that you won't have the control/power/input that you want to have?  Are you frustrated because you've tried that before with disastrous effects?  What's really underneath your reaction?
All three of these approaches helps you to step out of labeling the other person, or their idea, as "wrong" or "bad" by turning your focus inward.  This makes us slow down, avoid going onto auto-pilot, and stay in the control seat.  Being present to and aware of what I'm thinking and doing is always necessary.  We must practice anything we wish to become a new habit.
KindCommunication.org is a project by a close friend of Wiki World Order, Alex Leach. WWO fully supports the study, practice, and teaching of non-violent communication as one of the core solutions which already exists.