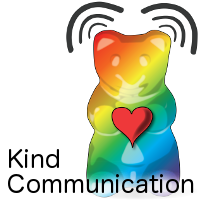 Re-posted From: http://KindCommunication.org/2014/11/17/giving-a-stellar-appreciation/
Thanksgiving is coming up.  And despite the holiday's questionable history, it is a day that we are invited as a nation to give thanks.  To give gratitude and appreciation.  But unfortunately most of us don't know how to give a really stellar appreciation.
Sure we know how to say "thank you".  The phrase has been drilled into our heads ever since we first learned them.  That same social conditioning has also made those words hollow.  And have you ever noticed how when someone says to you "you're the best ___!"  or "You are so ____" that the words just seem to bounce off your skin without getting through?   Yeah, it often feels the same way when you say those phrases to others.
But there is a way to give thanks with depth, meaning, and connection.
First, actually identify what you're thankful for.  When we're asked "what are you thankful for?" we answer with something vague.  "My partner", "my kids", or "my pets".  And while you certainly can be thankful that a certain person exists, more often we are thankful for specific things others have done for us.  For if this other person hasn't every done anything you're thankful for, then why are you thankful for them?
So get specific about what this other person did that you are thankful for.  Was it something they told you?  Some advice they gave?  Some moment of listening to you deeply?  Was it something they did for you?
Second, how did you feel in that moment?  What emotions come up for you?  Were you joyful, excited, happy, content, relaxed, etc?  Telling the other person your emotional experience opens them up.  It is a moment where you are being vulnerable with who you are, showing yourself to the other.  This invites the other person to take you seriously, to pay attention to what you're sharing, and to connect.
Third, share with them what value, need, deep concern or desire it met for you.  Did you experience respect, appreciation, love, care, nurture, equality, peace, etc?  What is the value within you that resulted in your emotional experience?  Sharing this lets the other person know why this is important to you.  This can help them see the value in whatever they did or said to you.
Let me leave you an example of this as I give thanks to you the reader:
Thank you for reading this, and any other of my articles you've read.  Knowing that people read these articles lets me know that I'm having an opportunity to contribute something, to maybe even help you.  And I feel really excited and pleased about that.  So thank you.
KindCommunication.org is a project by a close friend of Wiki World Order, Alex Leach. WWO fully supports the study, practice, and teaching of non-violent communication as one of the core solutions which already exists.