My earliest sister project of Wiki World Order (it's predecessor in fact), has just passed a silly, self-created benchmark after four and a half years. AltBib.Com currently has 6,679 Reference Links, with 14,738 Tags/Keywords, 81,862 Taggings (connections between links and tags), and 5,007,713 Database Loads or Queries (like page loads)…including many robot visits it seems. Over 2.3 million of these database loads took place just during 2013.
To Google Analytics, since July 2010 this translates to 10,572 Visits, 7,694 Unique Visitors, 28,571 Pageviews, 2.70 Pages/Visit, 00:05:05 Avg. Visit Duration, 72.38% Bounce Rate, 72.78% % New Visits. And as InfoWarDocs.org from May 2009 to July 2010: 16,681 Visits, 10,379 Unique Visitors, 43,482 Pageviews, 2.61 Pages/Visit, 00:03:59 Avg. Visit Duration, 78.37% Bounce Rate, 62.15% % New Visits. Lots of robots I'm sure, but I am pleased to see the average visit duration over five minutes.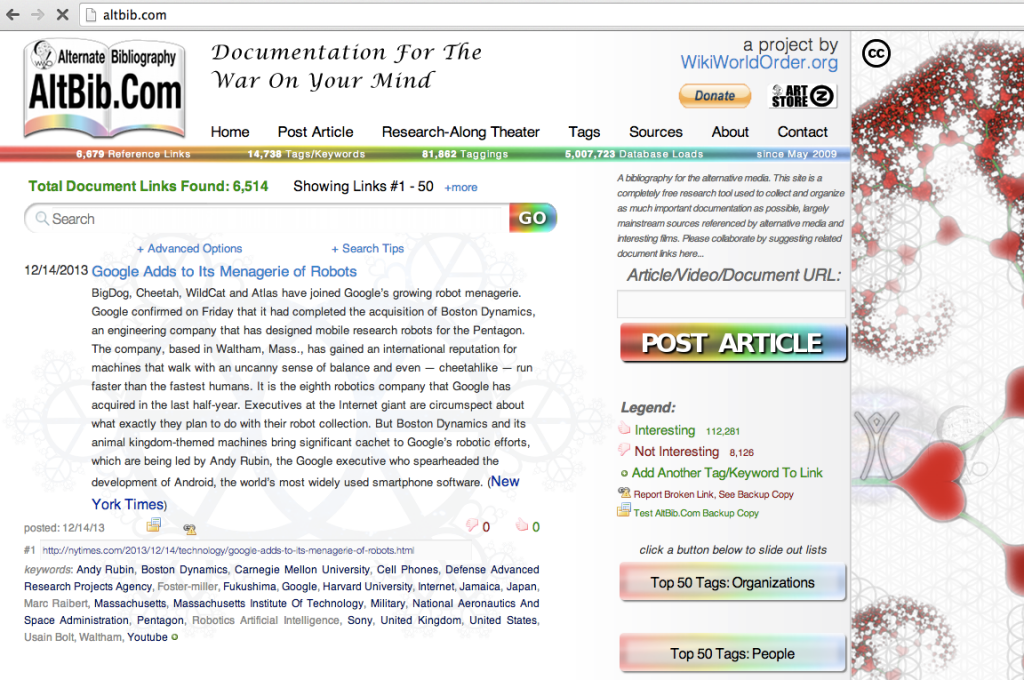 AltBib.Com is a bibliography for the alternative media. This site is a completely free research tool used to collect and organize as much important documentation as possible, largely mainstream sources referenced by alternative media and interesting films. Please collaborate by suggesting related document links.
For better and worse, it is primarily my perspective via the various outlets i follow and the sources they use. The bulk is comprised of sources cited from the Tragedy & Hope community of media creators (http://TragedyAndHope.com), the featured stories from PrisonPlanet.com, various drug policy reform activist newsletters, and periodically the Facebook shares from the brilliant friends. I bet that roughly one out of every articles/documents/videos i consume gets documented, systematically tagged, and archived there on AltBib.Com.
Here is my original video introducing AltBib.Com…